 Over the course of the building's 130-year history, there has always been a colourful mix of residents—artists, businesses and private individuals. JHP prides itself as a place of creative diversity, an awe-inspiring location that combines exceptional living and working spaces to allow ideas to grow— both yesterday and today.
In both of the newly constructed rooftop apartments, the views over the city and the adjacent Tiergarten are truly spectacular. On the other floors, the stylish altbau apartments are remarkable for their original details and flair that can only be experienced in person.
Living with a "Central Park" feeling in Berlin
The symbiosis of old and new.
The latest in modern comforts with a historical charm.
In one of the most spectacular private addresses in the heart of Berlin, behind a historical facade is the best of modern living, breathtaking views over the city and and a truly unique atmosphere.
luxury apartments
Access to the rooftop apartments is either by the impressive five-story staircase or via the new, extremely quiet elevator. There you will find one 230 sqm apartment with 2.90 to 4.30 metre high ceilings, rooms flooded with light and a standard of living that meets the highest expectations. Some of the features include: controlled ventilation systems, chimneys, heated floors, high-quality flooring, panel doors, double balconies, rooftop terraces and much more.
The metropolis welcomes you
At 195 sqm, the smaller of the two rooftop apartments impresses through the spacious layout of the living areas that include an open kitchen and a separate utility room. Details like the remote-controlled fireplace and a wine refrigerator add a sophisticated touch. Both rooftop apartments offer two bathrooms with walk-in shower, bathtub, bidet, double and single washbasins, all of the highest quality and standard.
Rooftop Terraces
A particular highlight of both rooftop apartments are the two 40 sqm rooftop terraces which offer spectacular views over Berlin's largest park, Tiergarten. Looking further, one can see many of Berlin's important landmarks, most notably the Kaiser-Wilhelm-Gedächtnis Kirche and surrounding skyscrapers, Potsdamer Platz, das Rote Rathaus (City Hall), Berliner Dom (Cathedral), the Reichstag (German Parliament) and the famous Berlin Fernsehturm (TV Tower). The Siegesäule (Victory Column) is located just behind the "Giraffe", the tallest building of the 1957 International Building Exhibition.
Both terraces are equipped with water and electricity connections.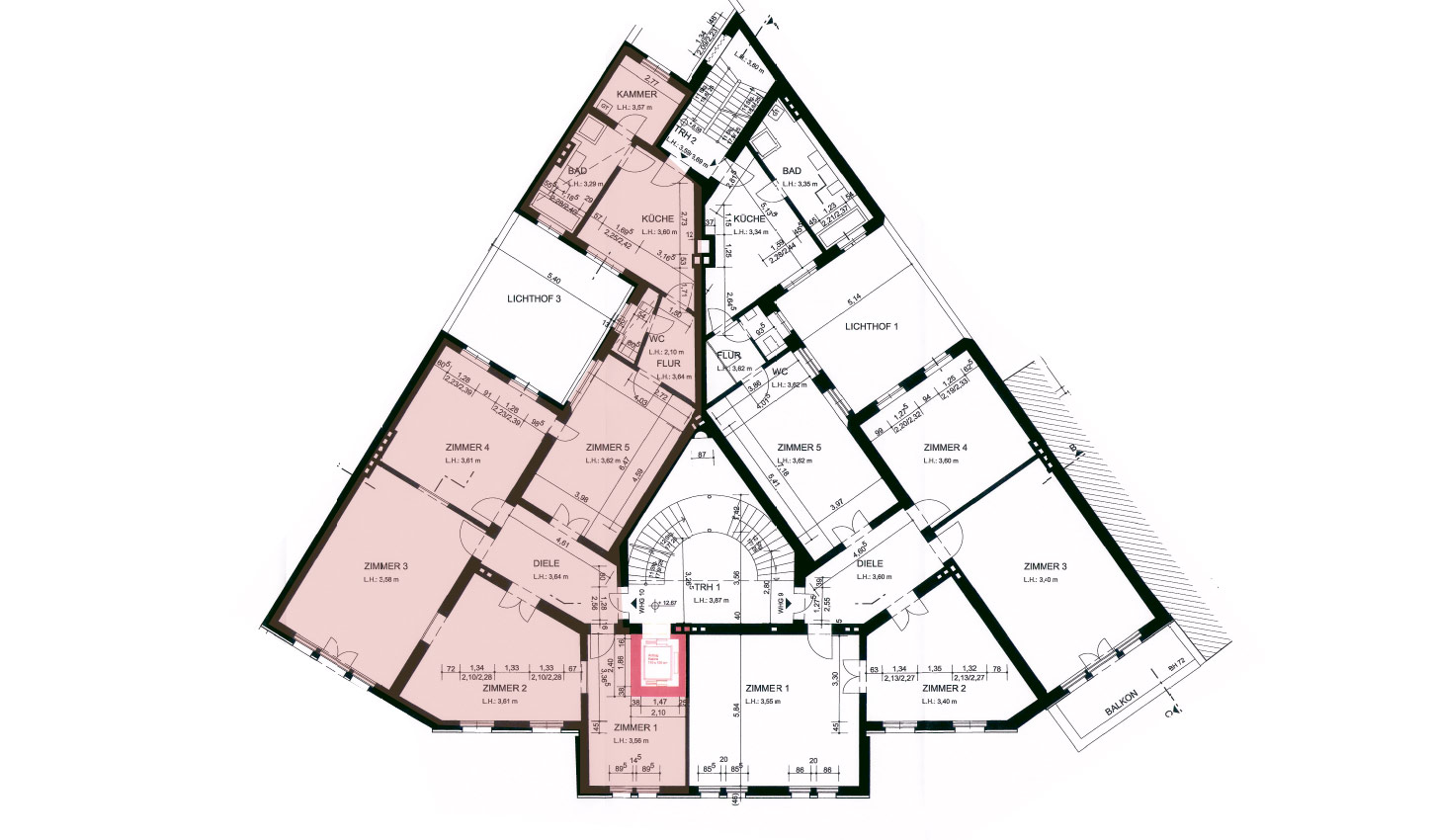 Altbau Apartments
The altbau apartments offer all the desired features of the building's original architecture: high ceilings, wooden floors, large double doors, covered terraces, original tiled floors and ceramic ovens.  With such ornate details, one can't help but fall in love. Access to the altbau apartments is via the main staircase or the newly-installed elevator, enabling step-free access from street level. The elevator is by authorization and activated via chip or the video intercom for guests.